Simitive
Since its inception Simitive's vision has been "To work with universities to become the software and services partner of choice to meet the evolving needs of institutions, students and staff."

Launched in January 2020, developed in collaboration with 12 universities and taking advantage of the latest technology Simitive's Activity Based Costing and contribution analysis (ABC-HE) product provides a new approach to the challenges of financial analysis, planning and reporting.
Integrated with Simitive Academic Workload and BI, ABC provides a unique set of capabilities for a university, delivering unparalleled granularity of analysis and consequential accuracy of cost and contribution for all levels of an institution from the whole to module or even facility level. TRAC becomes simply a by-product of financial analysis. Additional functionality includes detailed Financial Planning and Modelling with the ability to financially appraise prospective activities.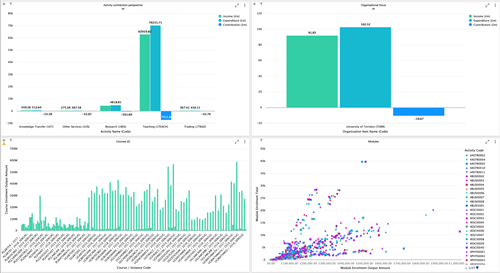 Since its inception Simitive's vision has been "To work with universities to become the software and services partner of choice to meet the evolving needs of institutions, students and staff."
Completely dedicated to the Higher Education sector Simitive works with over 50 UK universities as well as universities in Asia and Australasia. Simitive's team of experts has worked with universities to create of portfolio of products and services which includes:
Activity-based costing
Academic workload planning
TRAC as a service
Workload benchmarking
Curriculum resource planning.
All Simitive products are designed to connect electronically to existing core University systems removing the need for labour intensive manual entry or importing of data and enabling reporting in either the university's own BI tool or Simitive's integrated BI tool.
As a SAAS provider all Simitive clients are able to benefit from all product enhancements and new versions without additional cost.
All Simitive Products are fully maintainable by the University without recourse to Simitive.
Contact
or email info@simitive.com
Workload management - Simitive
Activity Based Costing - Simitive
Back to the supporter directory